PROBABLY NOT UNTIL YOUR CLOTHES HAVE BEEN ATTACKED AND MADE TO
LOOK LIKE SWISS CHEESE!
WHAT ARE SILVERFISH? COMMON SILVERFISH (LEPISMA SACCHARINA).
Firstly let me say they are interesting creatures. Small & wingless insects that wriggle when they move & so annoying and destructive. A silverfish's body is elongated which is fairly flat and tapers at the end. The surface is segmented and is covered with shiny,
silvery-grey scales. On the tip of its head are two long antennae and three long bristles at the end of its body which are responsible for its alternate name "bristletail" and used for both the silverfish & its relatives. Silverfish, like other insects, have three pairs of legs and adults grow up to 15mm long. The insects tend to move for a short time, stop, and move again. As they are unable to climb smooth surfaces they are often found in the bottom of bath tubs ad basins.
WHERE DOES ITS NAME COME FROM?
It's sometimes hard to see their thin, light-coloured legs and appendages when they wriggle & move swiftly along the ground and this creates the illusion of little silver fish swimming on land and makes their common name very appropriate.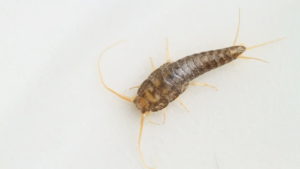 WHAT ATTRACTS SILVERFISH?
Certain types of clothing, food, paper and other items containing starch/carbohydrates is the major reason for attacks as starch/carbohydrates is the main ingredient in their diet, unlike Clothes Moth which is attracted to your expensive clothing i.e. wool, fur, felts, felts in pianos, rugs, carpets, blankets, upholstered furniture & materials of animal origin. Silverfish are agile, fast running, nocturnal insects that generally shun sunlight and are usually found in dark, undisturbed areas but can be widely found throughout a dwelling. They feed on most types of human food but prefer starchy materials. They are attracted to book bindings, cotton, linen, wallpaper, paper, photographs, 2nd. hand books, any sources of glue, starch or sizing. Books, papers & files should be stored in light and airy rooms.
DIET.
Foods found in the kitchen i.e. sugar, flour, bread, rolled oats & other cereals are on their menu and other lip smacking foods that Silverfish are partial to are mould, dandruff, body coverings from insect molts, high protein foods i.e. meat & dead insects. Yummy. They can survive for several months without food.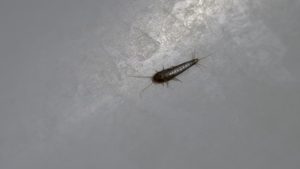 IMPORTANT HOME CHECK. EARLY DETECTION IS BETTER & CHEAPER THAN CURE.
Regular checks of your home in dark and hidden places is strongly recommended to determine whether pests are present as they are secretive insects & may reproduce and do a lot of damage before being discovered.
HOW DO THEY ENTER YOUR HOME? HABITAT.
They can enter on their own from outside but mainly are carried into your home unwittingly in a box that has been stored outside or 2nd hand books. Usually found in damp areas with high humidity i.e.. bathrooms, basements, laundry rooms and kitchens. Being nocturnal they hide unnoticed in cracks & crevices during the day and are active at night searching for food.
DON'T UNDERESTIMATE THESE LITTLE CRITTERS AS THEY ARE PESTS & DESTROY PROPERTY. LIFE CYCLE.
They may hatch in weeks or months after eggs are laid depending on the condition of the environment. The nymph is a smaller version of the adult & once reaching adulthood live for 2-8 years. An unusual feature of the Silverfish is they continue to molt even as an adult
which IS unusual for an insect.
CONTROL OF SILVERFISH.
Silverfish can be found in many areas of a dwelling and a thorough inspection by a
qualified pest manager is important to prerequisite treatment, although non-chemical
methods of prevention and control can be used.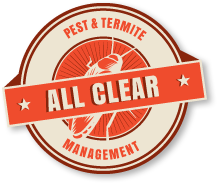 SIMPLE HINTS TO HELP PREVENT SILVERFISH INFESTATION IN THE HOME.
• Regular tidying, cleaning and vacuuming to remove silverfish eggs, crumbs, scraps of paper, debris & mould.
• Remove any uneaten pet food.
• Clean under sinks & crevices i.e. around base of ovens, refrigerators and along skirting boards.
• Fill any cracks that are noticeable.
• Seal wallpaper where it has become detached from the wall.
• Dripping taps increase humidity and attracts Silverfish.
STRATEGIES TO HELP STARVE SILVERFISH.
• Make sure all food containers, packages, photo albums and containers of important
papers are securely shut & sealed.
• Books, magazines & newspapers should be put in closed areas i.e. cabinets, cupboards
and plastic storage containers.
• Cupboards & containers should be cleaned to remove any silverfish eggs before paper
products are stored in them.
IN CONCLUSION BE VIGILANT AND CONSISTENT WITH YOUR HOME CHECKS.