TERMITES (order Isoptera) originate back to the Cretaceous Period more than 100 million years ago and are more closely related to the cockroach than to ants although they are sometimes referred to as "White Ants".
They are social insects and the order is typified by the families Mastotermitidae, Termopsidae, Rhinotermitidae and Termitidae and can be divided into 3 groups, Dampwood, Drywood and Subterranan.
Found in colonies termites are termed eusocial along with the ants and some bees and wasps which are all placed in the separate order Hymenoptera.
Their diet mostly consists of wood (could be your home), leaf litter, soil or animal dung and are major detrivores especially in the Tropics and Sub-Tropics.
In our 12+ years experience with termites they still amaze me with their ability to hide their nests and galleries from detection in the most inconspicuous and odd places so they can attack and eat your home.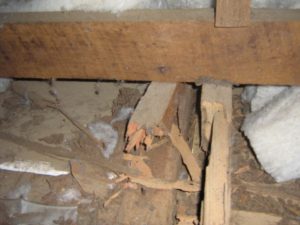 They are clever engineers building their nests to keep a constant 36 degrees all year round. You don't know they are there until you accidentally put your hand through a wall or knock a skirting board or hear them gnawing behind a wall.
DO NOT PANIC.
DO NOT DISTURB THE GALLERIES OR DAMAGE FOUND.
DO NOT SPRAY THE TERMITES WITH KNOCKDOWN SPRAYS
WE RECOMMEND CALLING A PROFESSIONAL "PESTIE" TO ARRANGE A CONSULTATION CONCERNING INFESTATION AND TERMITE TREATMENT. AFTER Treatment; 21-28 days an inspection of the nest is carried out to ensure the nest has been eradicated. All Clear Pest Control & Termite Management recommend another visual site inspection thereafter.
TIPS TO HELP REDUCE THE RISK OF TERMITE ATTACK.
Have a yearly visual termite inspection internal & external of your property. Remove any tree branches/ bushes that are in contact with exterior walls. Keep gardens and planter pots away from exterior walls, batons, and piers. Batons to have a clearance of a minimum of 400 mm from ground. Remove timber stored against exterior walls and/or under house and/or on property. Check for water leaks i.e. Air conditioner, hot water system, shower and dripping garden taps. Moisture attracts termites.
A YEARLY VISUAL TERMITE INSPECTION IS STRONGLY RECOMMENDED to help keep your home "ALL CLEAR" from termite attack.
PROTECTING YOUR HOME WITH A TERMITE BARRIER.
WHY SHOULD I HAVE A TERMITE BARRIER INSTALLED WHEN I HAVE A YEARLY TERMITE INSPECTION?
Good question. A regular yearly visual termite inspection will not prevent termite attack, but they will minimise the amount of damage caused before infestation can be eliminated.
BENEFITS OF INSTALLING A TERMITE BARRIER.
A termite barrier will protect your most valuable asset and life time investment, your home, also providing peace of mind for you and your family.
A professional "PESTIE" will give you a proposal (cost) to install a barrier which might seem expensive but if you break down the cost of a $2,000.00 barrier with a 10 year warranty it is much less than a cup of coffee a day. Then you are termite free and your house is still standing for years to come.
         TYPES OF TERMITE BARRIERS. 
PHYSICAL BARRIER
CHEMICAL BARRIER
RETICULATION.
        MONITOR BAITING SYSTEM
Monitor baiting stations are placed externally at 3 mtrs apart around the structure.
The baiting system is not a barrier and it's purpose is to monitor the possibility of termite attack. The baiting stations are checked regularly by the "PESTIE" then baiting stations are treated if active termites are found, baits are replaced. Then further treatments recommended.
ALL CLEAR PEST & TERMITE MANAGEMENT ASSURES PROFESSIONAL & COURTEOUS SERVICE. FOR ALL YOUR TERMITE & PEST TREATMENT CONCERNS OR ENQUIRIES PLEASE CALL US ON 0488 532 398
TO MAKE A BOOKING OR REQUEST A QUOTE PLEASE CALL OUR OFFICE 0488 558 688.
Ready to find out more?
Contact us today for a free quote!