Is it a case of 'Out of Sight Out of Mind'. Just because you do not see any nasty, creepy cockroaches doesn't mean they are not lurking behind walls and in appliances.They are a problem if left to themselves, multiplying which they do well, and they are waiting for the warmer months to once again be more active. Five sexually active female German cockroaches can produce a staggering 300 million juveniles and 75 million adults over 12 months and can definitely spread a number of diseases that pose health risks to humans
in the form of threatening bacteria i.e. Staphylococcus & Streptococcus and Salmonella which are passed in their droppings. Food is contaminated with cockroach waste and diseases are transmitted to humans when the food is eaten. Of all pests cockroaches are probably the most common found in homes world wide. PEST COCKROACHES ARE;
GERMAN, AUSTRALIAN,
AMERICAN, SMOKYBROWN, BROWNBANDED and ORIENTAL.
SOME HANDY HINTS.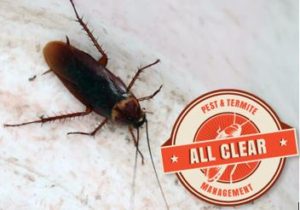 Wipe up spillages promptly Pay special attention to kitchen and where food is prepared and stored, store food in sealed containers. do not store boxes and paper
MOST IMPORTANTLY USE ONLY A QUALIFIED & LICENSED PEST MANAGER TO TREAT AND ERADICATE INFESTATIONS.
REMEMBER your yearly pest treatment for a happy and healthy family and home and to keep cockroaches under control BEFORE they become a problem.
Your homes best friend is your experienced 'PEST PROFESSIONAL'.